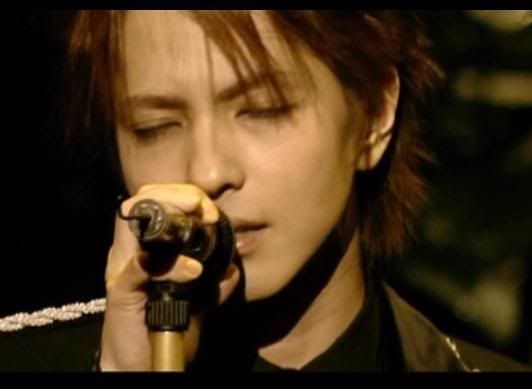 Why is he so fcking gorgeous?????

Just finished the Light My Fire 98 tour...Promised Land, Get out from the shell, Shout at the Devil, Voice, Dearest Love are officially my new laruku favourites >B-D And I've discovered the most random lyrics of all time HAHAHAHA: Devils walk in the strawberry fields? WHUT??? Nevertheless, the entire Heart Album now ranks at the top of my list :D On a random note, L'arc better release Bye Bye VERY very soon or I'm gonna go mad just listening to the 1.30 version of awesomeness.
For L'arc fans, there's this Laruku fan at youtube who makes fantastic "over the years" videos, she basically combines all the different performances of their more famous songs from the different years into one video. The transition of both audio and video is done BEAUTIFULLY, and thats not easy given that she changes the performance with every line sung in the song.
I highly recommend checking out the Anata version, I've always loved the song and have watched the many different performances many times over, but watching her video
here
actually made me
cry
for the first time listening to it, the part where the audience sings just completely overwhelmed me *___*
On other hyde-unrelated issues, I discovered the delicious LJ comm that is JrockSecret and wasted half a day just going through pages of absolute LULZ. Not just the "secrets", but the comments by all the members are freaking hilarious hahahaha. The best one was this one snarking the member of Gazette that wears the noseband saying smth like:
Dont like your nose? Then do it the Gackt way: Plastic.
omg it was so unexpected that I just rofled for a whole minute HAHAHA.
Current Mood:
blank
Current Music: Vistlip - Ozone